If after a long day at work you feel the need to lay back, put your feet up and relax – and I mean really relax – then Lampmans Furniture is the place you have to go. Lampmans Furniture is the first location in the Niagara region to be outfitted with a La-Z-Boy Comfort Studio, where they offer the iconic chairs in any style, size, fabric and colour, customized to fit the individual relaxation needs of every customer.
"We have access to the entire La-Z-Boy line and we're the only one in the Niagara peninsula," Muir said.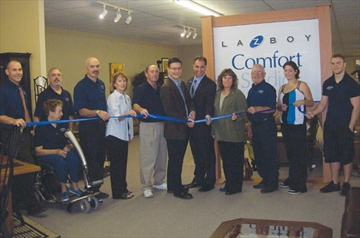 A mainstay of the community, Lampmans Furniture and Appliances first opened its doors in 1911, and over 100 years later, they're still going strong, with a staff of nearly a dozen people standing firmly behind everything they sell.
To see Lampman's vast selection of La-Z-Boy chairs and sofas, drop by our showroom at 728 Canboro Rd. in Fenwick or give them a call at 905-892-4701.
Our History
Lampmans Furniture store, part of Lampman-Muir Ltd, which also operates Lampman Funeral Home, began in 1911 as a hardware store opened by John Lampman in Wellandport. Somewhere along the line the hardware store became a furniture store, and continues to offer quality, unique furniture today.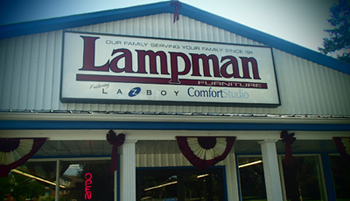 When John Lampman passed away his son J. Glenn Lampman with his wife Dorothy, took over his business, which he had been working with his father. Glenn's daughter Carol and her husband Irv Muir joined the family business in 1964 and eventually took over the business, and incorporated it into Lampman-Muir Ltd.
As part of the family business, and commitment to the community, Lampmans have always been generous in their donations and sponsorship of local churches, service clubs, schools and sports teams. Every year Lampmans hosts an annual Lights Display Contest, providing a night of entertainment for local seniors, collecting toys and food for Pelham Cares, and rewarding local residents for their Christmas spirit. Lampmans is also highly visible at community events, touring their antique vehicles through local parades and is the largest participant in the Pelham Home Show. Lampmans has even taken on the challenge of running a once a year display in the Seaway Mall.
The store motto "Our family serving your family since 1911, bringing you the finest in home furnishings" truly describes the store.